Sex in Lisbon, Darts in New York, and Nightmares in New Zealand
Some funny-sad-sexy-good memoir
News & Reviews Magazine
This article is part of our September edition. Read the editor's letter to see what other fantastic writing has just been published. If you're annoyed that it's paywalled, then that means you wanted to read it, which means you value it. These writers get paid for what they do because their work is valuable. If you like that this type of independent media exists, please back it!
The piece you're reading now is by Liam Sharma. Liam is a 28 year old writer residing in Sydney, Australia. He was the first known male to have a beauty column at a national newspaper in New Zealand (Stuff), where he was born. Liam now works at an eminent global cosmetic company and is the Editor of Sauce Magazine. The words he writes and colours he dreams often don't yet exist. 
This is the first of Liam's regular columns for News & Reviews Magazine. He's going to be writing about being flawed, freckled, and slightly fucked.
Let me kiss the scene for you. It was 2:13 AM on a sticky Wednesday morning in Lisbon, Portugal, and I was waddling through the cobblestone streets after ripping myself free from a Grindr entanglement. Mere moments ago a tall, sun-kissed Portuguese hotshot had me sprawled out on all fours in his bedroom with no AC. Not even a measly white rotating fan! Sweat dripped off my nose. 'Feel The Same' by DRAMA blasted through my crackly, water-damaged vintage Bose headphones. I kept forgetting to inhale my freshly lit cigarette, and the ash plopped off the tip after each block I crossed until it burned my middle finger. I'm ADHD, so I really can only do one thing well at once, and right then, I was trying to focus on how the fuck I was going to get home.
I had arrived in town alone the afternoon before, bent on tasting for myself what the infamous European beachside party city had to serve. Lisbon is an after-hours institution that nightcrawlers like myself fly thousands of miles from all over to get to. We're like moths to a disco flame for a promised baptism of insomnia, tobacco, and tequila. The third shot is always on the house if you can keep it down. Alleyway bars look like holes in the graffiti-smothered walls. I'm a devoted Rothman/Dunhill Blue girly. 'They put hairs on your chest,' my best friend Zach whispered to me once in the thick of New York's 2016 heatwave after a Friday night had turned into a Sunday morning.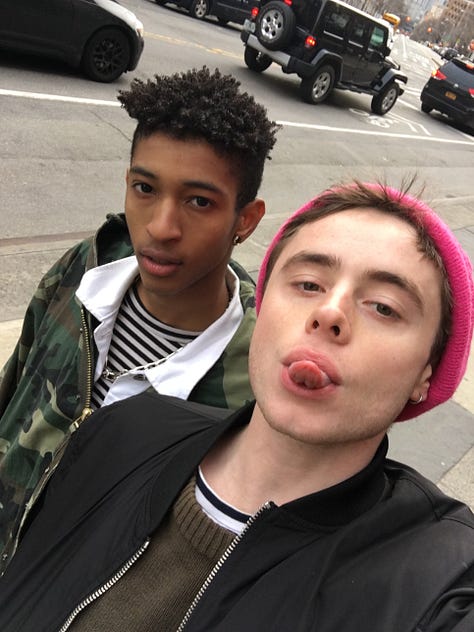 Zach and I would shoot darts on my rooftop together when neither of us could—or wanted to—sleep, melting into each other's bony shoulders as the resplendent sun rose over the projects. Our busted-up bare feet would hang off the edge of the ninth story of 77 Allen Street as we'd gossip for hours on end about which New York social piranhas we'd been doing magic tricks with all night and morning. This was back when my decade's 'IT girls' only had like fifty thousand followers on Instagram or whatever, and they were all relatively unscathed, without any clue of what was to unfold on the app. It was before IG bots and botched Botox. It was when Barbie Ferriera was Barbie Knox; if you know, you know. Corey Kennedy and Lindsay Lohan, and the like had already been chewed up and spat out of the Concrete Jungle. It was our turn to usher in the zeitgeist. And we did so in spades with bottle service.
I was 21 when I lived in New York. I will be 28 and in London when these words are moping around in your inbox. I'm Liam, by the way. You might have heard of me if you, too, were inserted onto this Earth in the antipodes. I'm the lone wolf in Prada Sneakers and a skin-tight, stained Dion Lee mesh singlet you caught from the right side of your eye in the early hours of the morning sniffing out his latest prey on Oxford Street. I have a 3.9 Uber rating, a terrace in Surry Hills that turns into a vortex after dark, a button-nose that the Eastern Suburb yummy mummies would DIE over and a penchant for being unapologetically unbalanced. My voice is so high it could smash glass if I wanted it to. I have insomnia, amongst a delightfully sweet assortment of other plagues that drown and anchor me. Sometimes my lack of sleep spins me out so much that I can swallow the stories in my head and spew them up as words on a plate screaming to be chewed.    
This post is for paid subscribers